(Those who read my other blog, this is essentially the same post)
So adjusting to living without the Love of My Life has obviously been hard.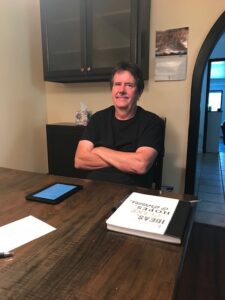 I am OK as long as I don't look at pictures of him or listen to his voice mail.
I am OK as long as I don't drive by the house he remodeled just for me.
I am OK as long as I don't think of all the amazing things he did for me over the years, like plant me flower gardens.  I was a very spoiled woman. I dedicated this song to him, from a woman's point of view. Unfortunately this time, we can't see this through together.
I was blessed with a love that few ever have. I have discovered Leland really was all that. He really was my EVERYTHING. I sometimes wander the house here missing his voice, his thoughts, his humor, his chasing me, his scent.
So when I found myself having trouble sleeping because he wasn't by my side, I didn't know what to do. I always reached out and touched him at some point during a night. Or if I got up to go to the bathroom, I'd get back in bed and reach over and touch him or pat him on the butt. Something. And every time I hit bare space it hurt.
I actually prayed about it and this is what happened: I needed to put something on the bed, in his place. Something that wouldn't hurt. This is the perfect solution: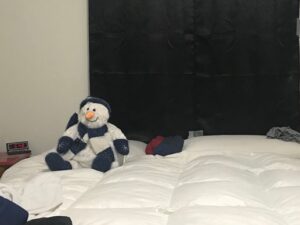 Yes, that is a big fat snowman sitting where Leland used to sleep. There are two purposes to putting him on my bed.
One is because now, when I reach out to touch Leland, my hand finds a fuzzy leg, arm, body – and I chuckle and go back to sleep. It makes me smile and it is peaceful. No, Leland isn't there but… he shouldn't have left me all alone because of…
The second reason – I used to have a massive snowman collection. He constantly threatened the poor innocent snowmen. (Don't worry. It was just a tradition. No snowmen were harmed [smile]. I dig out the snowmen for Christmas time and he'd mumble threats.) 
He was going to blow torch them. He was going to drag them out to a desert and bury them in the hot sand. Chase them down with the lawnmower, weedwhack them – he was always coming up with inventive ways to get rid of the snowmen.
It is poetic justice: Leland left me – so I put a snowman in his place. The snowman works because while it can't replace Leland, it makes me smile when I touch it in the night. Peace. 
♥

Copyright secured by Digiprove © 2021 Nan C. Loyd