Welcome to Never Growing Old's 11th Version of Meet Me Monday.  Go over and read her reason for starting this "getting to know you" meme.  If you don't have a website, simply answer the questions here in the Comment section!  It is fascinating what people like and how different we all are!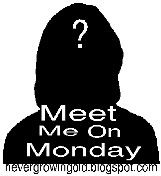 Today's questions:

1. What is your favorite kind of doughnut?
2. How often do you pray?
3. What is your favorite kind of music?
4. What do you order when you eat Chinese food?
5. Would you rather snowboard in the winter or swim in the summer?
1 – Favorite doughnut?  Fresh hot out of the grease glazed.  Dunkin' Donuts in Kansas City, MO.  Open all night. Being there right after they came out of the kitchen.  In my teens and early 20's, I could get away with that!  Not so much today.  OK, OK, not AT ALL today!  Today it is a fantasy.
2 – How often do I pray?  All the time.  I'm not into formal prayer, i.e., on my knees every night before I go to sleep.  I keep an open diaglog going with God all day long, but do try to meet Him first thing in the morning for Bible study and specific prayers before my day gets going.

3 – Favorite kind of music – oldies from several eras!  I love the 40's swing, the Rat Pack, 50's, and 60's!  I love some "soul" music from later times – smooth and romantic -Barry White anyone?  Aaron Neville,  Frank Sinatra, Nat King Cole…

4 – Chinese food – there are huge buffets around here so if we have to go, that's what we do so we can pick what we want to eat.  We try not to go anymore.  I like beef and broccoli but have a much better recipe without all the chemicals!

5 – Snowboard or Swim – swim.  I love the snow and grew up skiing but love the ocean and playing in the waves with Alpha Hubby much better!  He hates snow.  I would have to drug him to get him to go play in the snow with me ever again!! Besides, I'd never see sandpipers again and I LOVE watching them!

And that's it for this Monday!  Answer in the Comment section or link up on Never Growing Old website.  It's a great way to get your blog out there and to meet new people!

Copyright © 2010 Nan C Loyd
All rights reserved