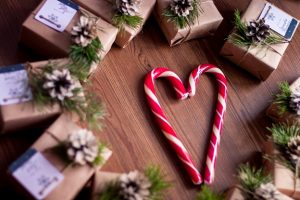 I got nuttin'.
Nuttin' I tell ya! What a place to be – with nuttin' to say. I can guarantee you Alpha Hubby doesn't believe it.
I'm so blank I'm going to post one of my mom's special holiday cookie recipes below. Super easy, melt in your mouth delicious.
Let me see…
I guess I can say that on the 6th Day of Christmas the internet repair man has to show up, Alpha Hubby is taking a free turkey in to get it smoked and I can't go anywhere until the internet repair man shows up. If he's like last time – which was only a couple of months ago (grrr) – he'll be here at 0800 hours.
Sufferin' succotash! But I can't complain. Most people never see their internet repair man – or cable man – or telephone man – so I'm NOT complaining.
I need to go to town! I need to look at Christmas decorations, and smell and drool over Christmas goodies. Oh. Hmmm. Maybe I don't need to go to the store until that drooling passes. I'm trying to stay off the naughty list this year.
So for the 6th Day of Christmas my true love gave to me – his phone so I could use his HotSpot so I can use his data and not mine! That's true love.
♥
Meringue Nut Cookies
1 Egg White
1/2 Cup Sugar
Pinch of Salt
Chopped Nuts
This is the basic recipe.  There are other variations that will be listed below.
Preheat the oven to 300 degrees.  Grease a cookie sheet.
Beat egg white with mixer until it holds a shape.  Gradually beat in the sugar and salt.  This takes a bit because you need to add the sugar in a tablespoon at a time.
Continue beating until mixture holds a definite peak when you pull the beaters out of the batter.
Stir in nuts, gently (I do it by hand).  Drop by teaspoonful onto the cookie sheet.  Bake 35-40 minutes. Remove from the pan with spatula and cool on a wire rack.
It calls for two cups whole pecan pieces but I NEVER put that many in as you then only have a thin
coating over the nut.  It tastes far better with more "cookie" than nut.  You can put one whole one in with coating. I like using chopped better (largely chopped not tiny pieces).  You'll learn what you like as you go.
Can add 1 teaspoon cinnamon sugar for a different flavor.
Can add in chocolate chips.
You are only limited to your imagination.
♥
It's Beginning to Look A Lot Like Christmas, Michael Bublé:  Christmas