I read a Facebook post by Eric and Pamela Hutchins, a romantic couple who "make you want to puke" (her own words). They are the kind of couple where people (their kids) say "Ewww, you guys! Get a room". The best kind of couple. Of course it doesn't hurt that they are a beautiful couple!
Eric is always bragging on Pamela, her abilities (she's an award winning author), her joy of life and her love for him. She is always mentioning things about him that she loves. Reading their quips to one another on their posts shows HOW couples need to talk to and about one another.
I'll mention other couples I know in later posts.
So I said all that to say this: there are reasons you are with your loved one. There are reasons you said "yes" when he asked your to be his (or vice versa) or developed a relationship with you. There are reasons you thought he (she) was the most amazing person to ever come into your life.
Those positive reasons are what you need to remember and focus on more than anything else going on in your relationship.  Focus on what is right about them. Focus on remembering their good points. Focus on why you fell in love. Focus on their best and even more importantly, talk about it, to them, to others.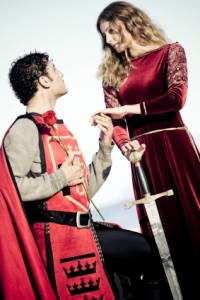 I wrote this post because I was thinking about a line I read in a book. The female character said, "He keeps me safe."
I'm talking it. Alpha Hubby keeps me safe. It isn't because he caught a baseball falling toward my head (twice) at a Little League baseball game Alpha Son was in. 
No, it is because he once told me in all seriousness: "Don't you realize I would die for you?"
That shocked me. I had no idea. I'd come out of abusive relationships with no idea how it felt for someone to truly love me unconditionally. ALL of me (I'd had those who loved me for my good side but not in my uglies).
Probably the number one way he keeps me safe is to work with me to make our marriage "days of heaven on earth" and keeping the honeymoon going even after 22 years. He is as determined as I am to keep us safe.
Then he did something like this a few years ago. He wrote on my white board where I kept notes to myself. I deleted the notes part because what he said was the most important thing. I need to spray sealer on it because I will never erase it.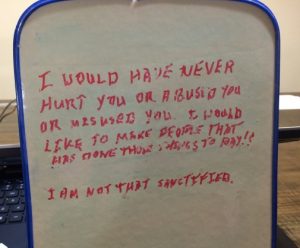 It says, "I would have never hurt you or abused you or misused you. I would like to make people that has [sic] done those things to pay!!  I am not that sanctified." As he put it to me, "I can always repent later."
Speaking of notes, though, lest you think he's perfect. He knows I HATE all things buggy, slippery, spidery, you know – icky things. One night before I went to bed I noticed a lizard had gotten in the living room door. I left Alpha Hubby a note thinking "He's such a hero and knows I hate these things. He will take care of this for me."
Yeah, no.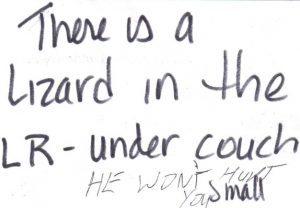 I let him know it was small so would probably be hard to find.  In case you can't see his reply:

Not the answer I was looking for. At all. But he did redeem himself – he found said tiny lizard and set him outside.
This explains WHY I have to make multiple answer questions easy on him – so he'll answer correctly.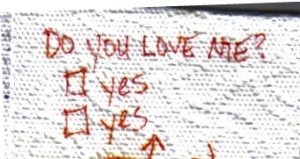 p.s., no he doesn't leave his clothes lying around – he's neater than I am. He does do my car, wash dishes, cook, work around the house, would do anything I ask of him (vacuum), takes care of spiders, snakes, bugs, and lizards!! OH and skunks (yes, one got in the ceiling somehow).
Best of all? He takes care of me.
.