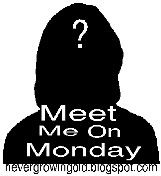 I'm baaaack!  Welcome to another "Meet Me on Monday" created by Java over at Never Growing Old!  Her takes is:  "Every Sunday I will post five get to know you questions that you can copy and paste into your own Monday post and we can all learn a little more about each and every one of us!!
"Its a great way to to meet new friends and for others to get to know me better….one Monday at a time!!!"….as quoted by the Chacogirl!! "
************
Here are this week's questions:
1. Do you watch any Soap Operas?
2. What appliance is used the most in your house?
3. Do you wear make-up every day?
4. What is your worst pet-peeve?
5. What is your favorite lunch meat?
1 – Soap Operas? My life used to resemble the worst soap opera on earth – why would I watch them?  Oh, ok. I was unemployed for a few weeks in the early 80's and watched three weeks of whatever one had Marlena and Roman (he was a cop) in it.  That's bad that I remember their names when I only saw it for 3 weeks!  This proves conclusively that soap operas are not only addicting, they scar you for life.
2 – Appliance most used in the house… I would have to save the stovetop now that I no longer have a microwave!  I have to cook!  It's weird.  I have to go re-learn how to cook without nuking my food of all its nutrients.  It's been really strange.
3 – No I don't wear makeup every day.  I used to at least put mascara on (I have blond eyelashes which make it look like I have NONE).  I used to do better and as this was a part of my previous post about finding my inner hubba hubba – I will do better.
4 – Pet Peeve – Pet peeve, pet peeve… OH! I know one… WAL-MART.  Wal-Mart is my pet peeve.  Wal-Mart deciding to pull 500 products because THEY decided I don't need to purchase them anymore – that I should purchase what's left – off brand or the one they picked to keep.  Wal-Mart putting cheap products on the shelf that don't last a few months.  Wal-Mart not carrying small appliances they used to (bread machines).  Wal-Mart in general.  All of Wal-Mart is my pet peeve.  I don't like anything about them anymore and I really don't like that they have us all in a clinch because sometimes they are the only ones who carry certain products when you live in the boonies!
5 – I don't eat lunch meat – chemicals and processed = no-no!  And once you're off chemicals, lunch meat tastes nasty!  Of course I try not to eat bread, either, so don't eat sandwiches.  It is really sad, you know?  I LOVE sandwiches but the carbs are not my friend right now.  I luff bread.  I luff everything about bread.  I luff different types of bread.  I luff crispy crusts.  I luff chewy bread. I luff sourdough.  I love French breads.  Oh bread, bread, how do I love thee, bread?  Let me count the… oh, this is about lunch meat.  Never mind.
Doesn't that make you wanna go slap a hippie.  (I'll explain that cryptic remark in a different posting.)