Oh get your mind out of the gutter.  Not THAT kind of quickie.

I have to do some major unpacking, go get my farm fresh eggs, run to the bank and make deposits, download pictures off the camera from the trip, then find my dining room.  Not necessarily in that order!  So this will be a quick Meet Me Monday which is sponsored every Monday by Java over at Never Growing Old.  It is a fantastic way to meet new bloggers and have fun!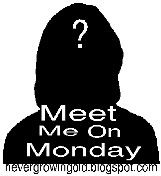 Questions:

1. What is your favorite pasta dish?
2. What is the last thing you do before going to bed?
3. How many nights a week do you go out to eat?
4. Are you an avid book reader?
5. Would you rather have x-ray vision or bionic hearing?

1 – Pasta – oh *sigh* Pasta, pasta, pasta, how I love thee, let me count the … calories.  We cut pasta out of our lives awhile back but my fave is stuffed manacotti. Not the work part, tho!

2 – The last thing I do before going to bed is quit reading whatever mystery I started.  It's my way of relaxing but it is also something I have to keep in control.  Sometimes the who-dunnits take over! This is the first Mrs. Pollifax book by Dorothy Gilman. Hysterical story of a woman who is a widow, retired and bored out of her gourd with her garden club – who wants to become a secret agent – and does.

3 – Zero.  It is very, very rare that we eat out.  When we changed our lifestyle to whole foods, it put a kibosh on a whole bunch of foods!! 

4 – See #2 – oh yes, yes, yes!  I am the kid who read books with a flashlight under the covers at night – who had to be dragged out of bed the next morning!  Partial bookshelf.  I am paring down but like keeping series that I love re-reading.

5 – Alpha Hubby swears I already have bionic hearing, so I'd have to go with x-ray vision – or a really nifty pair of Night Vision Goggles!!!

OK – now I need to head to the bank – so if you don't have a blog but want to answer, use the comment section.  Otherwise, link up with Java's Meet Me Monday and meet some new e-friends!