Valentine's Song, Your Precious Love (Marvin Gaye, Tammi Terrell)
****************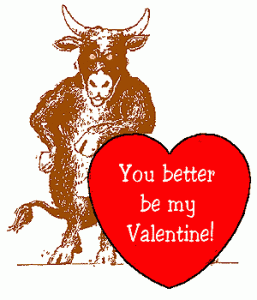 This is the e-Valentine Alpha Hubby sends me almost every year.  Sometimes he adds, "Please?" and sometimes not.  I remember the first time I received it.  I laughed and laughed and laughed.  Not because of any reason except I loved it.  Totally.
It typifies Alpha Hubby attitude of… oh I dunno… alpha-ness (pigheadedness).  He is a bossy britches, for sure.  I wouldn't have him any other way.  Why?
BECAUSE HE LOVES ME SO TOTALLY AND COMPLETELY, IT DEFIES LOGIC.
I have to say that I don't need chocolates, flowers, jewelry, pretty cards, romantic gestures, or THINGS to celebrate one day.  Why?  Well, because he has spent the better part of the past 2 years creating or re-creating an amazing home for me within this one we bought back then.
Front before we purchased house, their stuff:
Addition during:
View through French doors from master bedroom:
He built a large addition on that is not only a master suite but at the end of it is a large office, just for me.  He took a kitchen and made it nicer, just for me.  Created a dining room, just for me (and built the 10′ long mission table to go into it, just for me.  Remodeled two bathrooms, created a walk-in pantry, tore out two teensy tiny bedrooms and created a library, all just for me.  He is now working on remodeling the living (but that is just for him, smile.  Big TV and all, ya know).
He bought extra large rocking chairs for our front porch, just for me.  And more, just for me.  All while also working 50-60 hours a week, just for me.  And he LIKES doing – creating – just for me.  Catching the theme here?  He is always telling me "I do all this for you."  Sometimes, just sometimes I wonder if he's trying to get out of buying mushy gifts and cards but… nah.  Those would be easier that building a home by hand and with one Alpha Son!
And I will do a post with the before and after pictures but I just have to show you one of my favorite rooms he built.  Not only does it have amazing accoustics so I can do my vocal exercises in there (smile), it is just COOL.  Neither of us has had one this big so we are enjoying it.  God is so good to us and Alpha Hubby is so good at creating.
It is my humongous wonderful amazing bath area with walk-in shower.  Or I could say "walk-through" since he has his side and I have mine.  Wanna see?   These are some of the during and not quite complete stages:
This is the best on-going lifetime Valentine's gift evah!!!  And Christmas and Birthday and Wife's Day – what?  You never heard of Wife's Day?  Well, shoot, let's start one!  And Girlfriend's Day, too!  And with an I Love Me Day added on!!!  A Significant Other Day?  Yeah, that too!
To all my favorite e-friends, HAPPY VALENTINES DAY (check my sidebar & visit some amazing bloggers).  These flowers are just for you – yellow tulips which mean "There is sunshine in your smile".  So many of you have blessed me, made me smile, educated me, inspired me, and just plain caused me enjoyment through your blogs.  Thank you!
And Alpha Hubby? The titles of Marvin Gaye's songs say it all, baby!  Let's Get It On!  because "I Want You".  And  baby, you've Got to Give It Up!  And Since I Had You, I can guarantee you won't be asking What's Going On you'll be crying Mercy, Mercy Me!
I love you.