If you want to hear this love song below, you'll need to go to the right and pause the music player. Just click on the || button!
You may have to "X" out commercials ads.
What I like best about this video is that most of us can find our generation's dance and wild clothing in it!
*******
Alpha Hubby is the Number Uno reason our marriage is what it is.  He is pretty much laid back (well, about most things) and Über forgiving and understanding.  I remember my first – um – meltdown?  We hadn't been married very long.  I was out riding the lawnmower and he came out to bring me a glass of iced tea.
My thought process went something like this:  "Why is he bringing me a glass of iced tea? What's his deal? What does he want? What is he doing, coming out here like that."  AND, unfortunately, I acted that way.  Pretty much said, "Why are you bringing me that. I don't need it."
He was so shocked but he said, "OK" turned around and went back to the house.
The Big Voice in my head said, "You need to go fix this RIGHT NOW." I was ashamed but honestly couldn't understand what my problem was. I drove over to the carport, stopped the lawn mower and hesitantly walked over to him where he stood with the glass looking at me a with shuttered eyes.  Alpha Son was playing around behind him but I sucked it up and said, "I'm Sorry."
He said, "OK. Can you explain what happened?" He said it so calmly and sweetly, not with anger or attitude.
"Not really. No one (man esp.) has ever done anything like that before. Anytime anyone did anything, there was always a hidden agenda and it wasn't usually in my favor.  I'm serious, no one's ever, um, well, I guess, been nice to me."  I reached for the iced tea, humbly.
His entire face cleared up, he handed me the iced tea, I took it gratefully – and he hugged me.  "We'll work it out, you'll see" he murmured.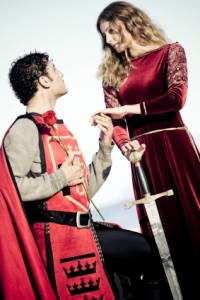 Our entire marriage has been like that.  As I worked through my issues, unpacking my baggage one bag at a time, he has been a strength. He is an expert baggage unpacker.  He loved me enough for me to begin to trust him. He loved me through insecurity and fear.  He loved me through, thoroughly.
He made it safe for me to unpack my baggage.  He gave me a secure home where I could be myself and know I was loved for that.  He has honestly gone over and above all I could ask or think.  He is a true Knight in Shining Armour and has never tarnished.
He protects me and would never hang me out to dry. He kills spiders, snakes, frogs, mice, and little scorpions.  He chided me when I wouldn't let him open my car door. He explained to me that it was a way to honor and respect me as a lady and the woman he loved. I was like, "Um, ok. I guess. As long as you KNOW I can open my own door, bub." Gracious as usual.  But I learned and now I love it. Alpha Son's wife does, too, 'cause he learned from the best.
His whole philosophy can be summed up in the title of this song. His take is "No worries, let's dance!" And not because he ignores things life tries to throw at us but because that is his true attitude, that we're going to make it. He hates stress and worry and refuses to participate. He is calm and finds solutions, no matter what we face.
He always wants to slow dance with me. He always want to *ahem* with me. He believes after all we've both been though that we should thoroughly enjoy our life together. He wants to BE and give me exactly what I need to be happy no matter what it is. He is the true fairy tale hero.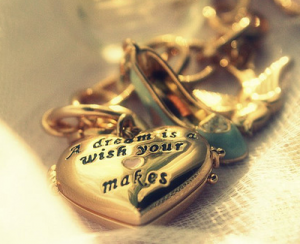 Oh sure, he's human.  But his attitude? His personality?
I think they're kind of supernaturally…
… magical.