So, Alpha Hubby and I have been in the process of preparing for a move to another state. Eight years ago we did the same thing by moving to where we are now. Both times have had opportunities fraught with battles, anger, misunderstandings, grr-moments, and the like.
Sometimes when you are living with a group of boxes in almost every room – and someone has helped you pack them up – you can become totally frustrated. Thus the tale of the packed-up kitchen.
Alpha Hubby wanted to help and I appreciate that. He attacked the kitchen, pantry and laundry room with a relish. It was such a help… until I reached for something I needed to use (and would never have packed up at this time). Our conversation went something like this – times about 10 times when I reached for other somethings.
Me: Have you seen my such-and-such item? I could have sworn it was here.
AH: I'm pretty sure it's been packed up.
Me: Really? Are you kidding me? We use that all the time!!
AH: Well, if you didn't want help, you shouldn't have asked.
Me: I DIDN'T ask, you volunteered.
AH: Well, if you didn't want help, you shouldn't have said yes.
Me: (Smoke coming out ears)
Me: I guess I should have made a list of things NOT to pack at this time.
AH: Well, I guess you should have.
End of discussion.
Now two things – first, this above discussion wasn't done in anger but I'm pretty darned sure he was being snarky. Secondly, I had a choice to make.
I had to decide how I was going to handle this. The most important thing is that he did volunteer to help do something he really doesn't like doing – packing. He also knows that if anything gets broken in the move because of his packing, he will replace it. (Yes, darling, I just made that rule up.)
I had a choice to make – do I get upset or do I just accept that I am either going to go through all the boxes trying to find the "it" I'm looking for or do without it? If I can't do without it, will I go buy another one? If buying another one is not fiscally friendly, what happens?
I did notice that he is really, really good at figuring out where something was stashed. That helped tremendously when I absolutely had to have something (like holiday cookware you never use any other time and absolutely did not want to buy another).
Then again, yesterday we went through several boxes looking for my Bodum pour-over coffee maker.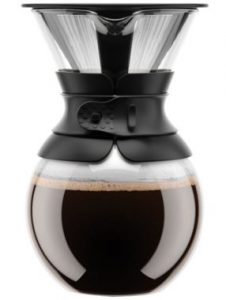 We never did find it. I may have packed it, he may have packed it, but no one knows where it is. So I had to go on Amazon and purchase another – which works because if I ever have company, they can have their own little pot.
But through all this, I could have chosen to have a huge hissy fit. I could have been ugly about his "help". I could have made a choice to make his life "hell on earth" – why? Because I (me, myself) neglected to tell him what not to pack right now. I assumed. Also, I am so grateful for all the good he did do (and all the times he found what I was looking for).
Since we are on this journey of life together, he's ALWAYS pulling that "with me or without me" card from the movie, Knight and Day (Tom Cruise, Cameron Diaz, hysterical). And he's right. It IS important that we stay hooked together.
My man is 100 percent with me. He is a giver. He gives of himself to me as a form of love. He is always out to protect me (sometimes even from myself). Maybe sometimes things don't go quite right but you know what? I am NOT looking a gift horse… um, gift Alpha Hubby in the mouth.
He blessed me. He loves me. He wants to give to me, not only things but of himself. That is worth far more to me than anything else on this earth. So baby? The same back at 'cha – with me!
He's with me; I'm with him. It's all good.
♥