(#2 for me and #7 for originator)  It is that time again – I so enjoyed reading other people's responses via email & comments – it's interesting what we all have in common and what is different.  If you don't post blogs, answer these questions in the comment section below.

Meet me on Monday is the brainchild of Never Growing Old.  Every Monday she posts five "get to know you" questions that you can copy and paste into your own Monday post and we can all learn a little more about each and every one of us!! She also does a "linky" so we can follow who participates and get to know them better! Be sure to go over and link your Monday post at Never Growing Old!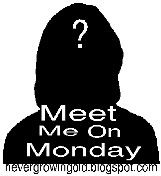 Questions:
1. What one food could you eat every single day?
2. Do you wear glasses or contacts?
3. What kind of cell phone do you have?
4. What did you have for dinner last night?
5. What is your favorite candy?

—————————————————————
Answers:

1 – What one food… hmmm… every single day… MAN that's tough. EVERY day? Some foods I love but EVERY DAY? OK – it would be a toss up between fresh picked blueberries or sun-ripened strawberries. Really! We're talking every day here and I could so munch down on both of those every single day. I have blueberries in my fridge, right now!

               


2 – Contact lenses since 1969 – started out with those hard plastic kind. Sort of amazing how far lenses have come!! I own a pair of glasses but couldn't tell you where they are right now!

3 – Samsung Hue II flip open kind (we're not very cell phone savvy – just moved to a house where we get a cell phone signal for the first time in 8 years (when we first got a cell phone).

4 – Leftover schnitzel, corn & can't elope.  Well, I could but I'm already married.
5 – I try very very very very very very very very very very very very very very very very very very very very hard not to think about candy. Really. NO thoughts at all about my favorite candy.  None. Nada. Zip.  OH OK YOU FORCED ME TO TALK.  My very favorite candy is this little square I first tasted when we lived in Germany.  It's called an "Ice Cube" chocolate (by Albert & Co/Moritz; used to be blue & silver packaging; is now gold; I found it is available online) – there is no wax in it – a smooth, silky wash of milk chocolate that coats your fingers and tongue, making you want to eat it all at once AND hold it in your mouth until it is all melted.  You know you want it.   You will always want it.  Once you try it, all other chocolate fades from memory.  Trust me. 


OH forget it – even better?  Amazing milk chocolate made in the USA by a place I am so glad I no longer live close by – handmade in Brattleboro Vermont – Tom and Sally's Chocolate – Belgian milk chocolate and French dark chocolate.  Again, no wax so melt in your mouth (and in your hand) chocolate.  They have moose (& other animal) patties, gourmet chocolate, *ahem* products, and other fun candies.

I think these Monday meetings are NOT so good for me.  *Sigh*